1811 Slave Revolt Memorial Contributor: Whitney Plantation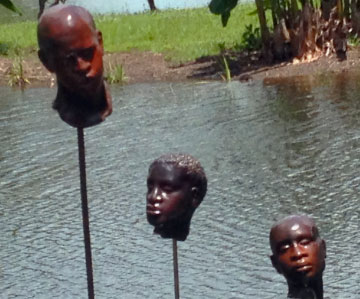 From January 8–10, 1811, the largest slave revolt in the U.S. South erupted on the German Coast of Louisiana. About 500 slaves of St. Charles and St. John the Baptist parishes rose up and walked downstream toward New Orleans. They killed two white men and did considerable damage in the plantations they crossed. They were stopped after a rough battle against the local militia backed by regular troops. Many were killed in the action or were reported missing. Dozens of slaves were condemned to death, executed, and beheaded, at the plantations to which they belonged. The heads were planted on poles at places where each of them had undergone punishment. In New Orleans and St. John the Baptist parish, many death sentences were also pronounced.
To create what could be the most extraordinary memorial, the Whitney Museum commissioned Woodrow Nash to create 63 ceramic heads depicting the revolutionaries mounted on steel rods along a pond designed to resemble a meander of the Mississippi River.
Origin:

Whitney Plantation, Louisiana, United States

Item type:

Sculpture
---
Related Pages:
---
More from Whitney Plantation: