Mary Prince

circa 1788 — after 1833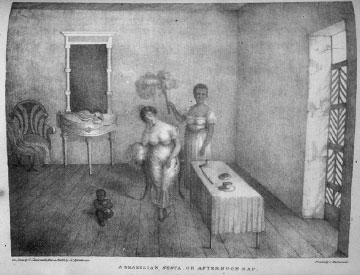 Mary Prince was born in Brackish Pond, Devonshire Parish, Bermuda, around 1788. Not long after her birth, Mary and her mother were sold to Captain Darrel Williams. Williams then gave Mary as a gift to his granddaughter, Betsey Williams, while Mary's mother was given to Betsey's mother, Sarah, as a domestic slave.
Sarah Williams died in 1798 and two years later, her husband was about to remarry. In order to raise funds for his impending wedding, Mr. Williams sold Mary, then twelve, to Captain John Ingham. Ingham and his wife were cruel and abusive masters. For example, Hetty, the Ingham's domestic slave and Mary's kindest ally, was flogged one day so severely, despite being pregnant, that she and her baby were killed. After Hetty's death, Mary inherited more domestic tasks and endured greater abuse. After surviving a period of great hardship, Mary fled to her mother. She hid in a cave with the assistance of her mother for a couple months, before being convinced to return to the Inghams.
Mary continued to be abused by the Inghams for the next five years. In 1805, she was sold to a master only known as "Mr. D--," who took her to Turks Island where he forced her and others in his charge to extract salt from the sea. Years of such harsh labor took its toll on Mary's health. She was plagued with rheumatism and St. Anthony's fire. In 1810, her owner left the business of salt mining and moved back to Bermuda, taking Mary with him to work for his daughter. During this time Mary's tasks were lightened, however, she suffered sexual abuse from her owner.
In 1816, Mary was relieved of Mr. D's abuse only to be delivered into greater despair when she was sold to John Wood. Wood bought Mary as a domestic slave for his wife. However, Mary could not keep up with the arduous tasks her mistress imposed upon her. Two years later, Mary accompanied the Woods to England, where she sought refuge with Moravian Missionaries and the Anti-Slavery Society in London. The Anti-Slavery Society made numerous unsuccessful petitions to the British government to grant Mary Prince unconditional freedom.
The date, location, and circumstances of Mary Prince's death are unknown. Yet her life, recorded in her autobiography The History of Mary Prince, a West Indian Slave, Related by Herself, left a lasting legacy. Though her account was the cause of much controversy during the nineteenth century, it was largely overlooked until recently. A copy of her autobiography was not present on the island of Bermuda until 1985.
In 2007, Mary Prince's memory was honored with a plaque denoting the place where she lived in England. In addition, her story is part of the "London, Sugar & Slavery" exhibit at the Museum of London Docklands. Mary Prince was also featured as the fictional love interest of George Bridgetower in the English Touring Opera production of "Bridgetower."
---
Related Topics: