International Slavery Museum

Liverpool, England, United Kingdom

The International Slavery Museum (ISM) opened on 23 August 2007, the bicentenary of the Abolition of the Slave Trade Act and a day designated by UNESCO as Slavery Remembrance Day. By 2012 the museum had welcomed more than two million visitors.

Through exhibits on transatlantic slavery and contemporary forms of enslavement, ISM seeks to increase public understanding of the history of transatlantic slavery and wider issues of freedom and injustice. Featuring powerful and moving displays, this unique museum is an active supporter of social change and social justice. ISM actively campaigns against racism, discrimination, and inequalities, as well as modern day slavery and other human rights abuses.

The International Slavery Museum features three galleries. Life in West Africa explores the story of Africa and its peoples, who are central to the story of transatlantic slavery, and introduces the continent as the birthplace of human culture and civilizations. Enslavement and the Middle Passage reveals a degree of the brutality and trauma suffered by enslaved Africans on horrific voyages across the Atlantic, as well as information on their lives on plantations in the Americas and their constant resistance. Legacy details the continuing fight for freedom and equality, the racism, discrimination, and other legacies of transatlantic slavery, and the achievements of the African diaspora and the campaign for human and civil rights.

The International Slavery Museum aims to collect objects relating to transatlantic slavery and its legacies. The Diaspora Collection focuses on social history material relating to the Black Diaspora, from countries that have a link to transatlantic slavery. The curatorial team focuses on Liverpool's social history, by actively sourcing collections which reflect the experiences, identity, and culture of Liverpool's black community and their relationship to the city and the impact of social, political, and economic change on their lives.

The Legacy Collection covers racist memorabilia, manufactured items which depict racist imagery and racist stereotypes of people of African descent. The global Inequalities collection reflects the political, economic and environmental issues associated with global inequalities and fair trade.

The Centre for the Study of International Slavery (CSIS) is a partnership with the University of Liverpool which aims to contribute to the understanding of slavery and its legacies and to foster research and debate in this field. The Centre works together with other universities and organizations to develop scholarly and public activities related to slavery in its historical and contemporary manifestations.
---
Related Topics: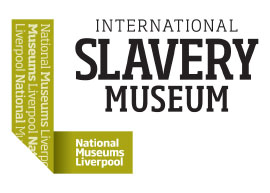 ---
Related Pages:
---
More from International Slavery Museum: